"I've been a high school counselor (Montgomery Co. Public Schools, MD) for 24 years ... Your publication is definitely one of the most helpful I have ever seen, and I've seen and read a lot in 24 years. I look forward to reading it, and sharing it with colleagues, each week."
A. G. Montgomery Co. Public Schools, MD
"A quick note to let you know that I just read my first "issue" of hscounselorweek - and I found it to be timely, pertinent and diverse! As a public high school guidance counselor with a large caseload (surprise.) it's clearly "news I can/will use" and look forward to the next issue. Keep up the good work! "
SRM , Counselor / HOOF D103
---
College Admissions Strategies
With Lee Bierer


Counselors' Corner
With Patrick O'Connor Ph.D



The College Solution Blog
With Lynn O'Shaughnessy



College Search Game Plan.com
With Todd Weaver



The Concord Review
With Will Fitzhugh


The four regions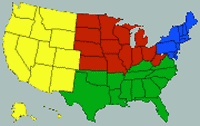 Subprime Education
PBS.org - Frontline - Sep 12, 2016
FRONTLINE investigates allegations of fraud and predatory behavior in the troubled for-profit college industry....